Our last Bistro date of the 2021-2022 school year is April 22nd. We are no longer taking reservations.
Thank you all so much for a fantastic year of fine dining! We appreciate everyone's support of Bistro and our culinary students. Please check back in August for our Bistro Lunch and Dinner dates for 2022-2023!
Bistro, a fine dining restaurant highlighting students in the advanced Culinary Arts program and the Hospitality Management program. The Bistro calendar varies to include an ample amount of instruction and is open on Thursday and Friday several weeks during the school year.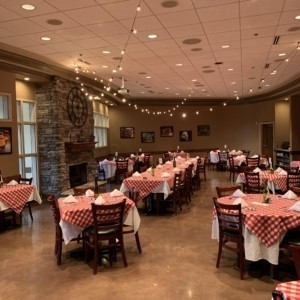 RESERVATIONS
770-531-2330 ext 10111
We are not taking any more reservations for the 2021-2022 school year. Please check back in August 2022 to make reservations for our lunch and dinner dates during the 2022-2023 school year. 
Bistro Dates
Bistro Lunch and Dinner Dates
*Dinner Dates in Red
This Month's Menus
Please scroll down to see both lunch menus and the dinner menu.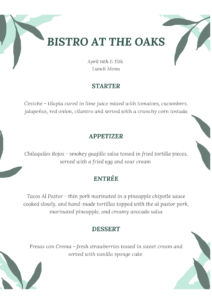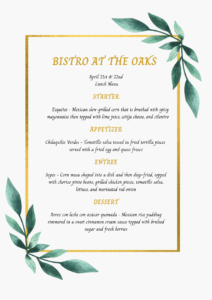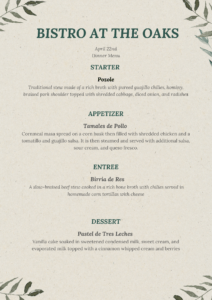 Lanier College Career Academy
2723 Tumbling Creek Rd.
Gainesville, GA 30504
Phone: 770-531-2330
Fax: 678-450-5978
School Hours
Monday – Friday
8:00AM – 4:00PM